Some of our clients: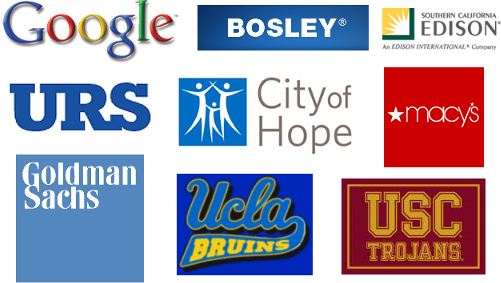 Why everyone chooses Luxe Translation for professional translation service:
Our translations go through a strict quality control process before we deliver them to our valued clients. We are so confident about the superior quality of our services that we offer a guarantee!
If you are not 100% satisfied with our services for any reason, we will translate and proofread again at no additional charge until you are 100% satisfied.
Our message in short: SATISFACTION GUARANTEED!
Here are some other reasons why Luxe Translation is the number one choice for all your translation & interpretation needs:
High Quality:
We employ only the best of the best for every language: Experts with excellent track records and lots of experience. This increases our chances of success and our satisfaction rate.
Every translator and interpreter goes through a step-by-step quality check before being hired. We do not select candidates unless they pass our quality control process.
Every translator translates into their mother tongue only. For example, if someone speaks French as their native language, they will translate documents to French only. They will not translate from French to English, unless they are a native speaker of English.
After a translation is finished, it will go through some internal quality control processes and it will be submitted to the client only if it passes our internal quality assurance processes.
Affordable:
We can offer the most generic soma pills competitive prices because we process many projects at the same time. This makes wholesale pricing possible, and we pass these savings onto you.
Rapid:
We will let you know in advance how many days a project will take. We process projects immediately and produce results faster.
Our speed in turning around projects is unrivaled. Whereas many companies may require up to one week for a one-page translation, we can finish the same translation within one day. Rush, same-day service can usually be accommodated.
Being located in Los Angeles gives us an edge because it allows us to bring you the best talents in translation and interpretation
No hidden fees:
We will let you know how much a job will cost in advance. No hidden fees, no surprises.
Easy to Reach
We are US based. Customer service can be reached by email, phone calls, fax, and regular mail. If you need any assistance we are one phone call or one email away. We are always online. Even if you email us on a weekend or late at night, someone will usually get back to you within minutes.
Certified Translations
We can provided certified and notarized translations of official documents like birth certificates, diplomas, marriage certificates, and divorce decrees. Our translations are accepted by the USCIS.
To get in touch with us, you can email us or call us at 1-888-853-5513